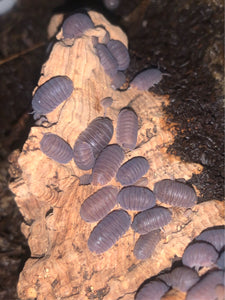 Jurassic Reptile Supply
C. murina "Little Sea" Isopods
Regular price
$15.00
Sale price
$30.00
Unit price
per
Listing is for 20+ isopods 
These are hardy and prolific breeders and do best in environments that feature a wet and dry side, so the isopods can self-regulate. You can add them right to the enclosure, or seed a culture in a separate bin and then transfer them to the habitat once they breed. Dump the entire contents of the container into the enclosure you plan to use (babies can be hard to see).  
Isopods are "land crustaceans" and cannot exchange oxygen if they get too dry. Similarly, they can drown if submerged for an extended period. They require moisture (a small chunk or carrot will do) and protein (we use fish flakes, crushed oyster shells). 
PLEASE NOTE, THERE IS A TURNAROUND TIME OF UP TO 48hrs ON ORDER PROCESSING. PLEASE ORDER BEFORE YOUR ANIMAL IS ALREADY OUT OF FOOD. ORDERS ARE PROCESSED IN ORDER RECEIVED, NO EXCEPTIONS. 
---